Introduction
Sri Lanka is the perfect holiday destination for your kids.  This magical island transports your family to an exotic destination island with stunning coastline, fortresses built on boulders, temples carved from cliffs, wildlife experiences, tea plantations and a wealth of culture. You will marvel at the unspoiled beaches and enjoy travelling through the countryside on a charming train.   This trip is everything you could want in a family holiday.
Itinerary
Day 1 - Arrive Colombo
Arrive at the Colombo International Airport where you will be warmly received by an Exotic Destination representative.  After which you will be transferred to your hotel in Colombo to relax and unwind after your flight.
Day 2 - Colombo
This afternoon visit old Colombo town as the sun lowers over the Indian ocean on a Sunset Safari on a Tuk Tuk.   Enjoy a fully exclusive tour with visits to location destinations, local food stops and local drinks.
Optional alternative
Late afternoon enjoy a walking tour by Mark Forbes (shared) – A city walk through the city of Colombo, where you can experience firsthand the borrowed words from the Portuguese to the amazing architecture the Dutch/English left behind, see the vision and love the Englishman had for this land – all while learning and experiencing what being "Sri Lankan" is all about.
Day 3 - Colombo - Anuradhapura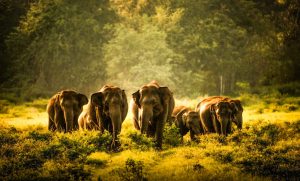 Leave the architectural wonders of Colombo and make your way to the cultural Centre of Anuradhapura.   Later this afternoon, you will embark on a game drive at Minneriya National Park spotting Elephants and any other wild animals you may see.
Day 4 - Anuradhapura
This morning visit and climb the Sigiriya Rock Fortress" home to the 5th Century "Fortress in the Sky" which is perhaps the most fantastic single wonder of the Island.   It is also known as Lion Rock because of the huge lion that used to stand at the entrance to the fortress.
This afternoon adventure to the rich collection of archaelogical and architectural wonders of Sri Lanka at Anuradhapura.
Day 5 - Anuradhapura
This morning discover the elegant simplicity of Sri Lankan village life on a guided bicycle excursion.  You will be welcomed at the home of the village headman and meet with the people.  This afternoon for the nature-loving foodie, a guided tour of the organic herb and vegetable garden, where you will pick your ingredients for lunch.  You will be transported to a traditional hearth kitchen to turn your food into a delicious Sri Lankan dish.
Day 6 - Anuradhapura - Kandy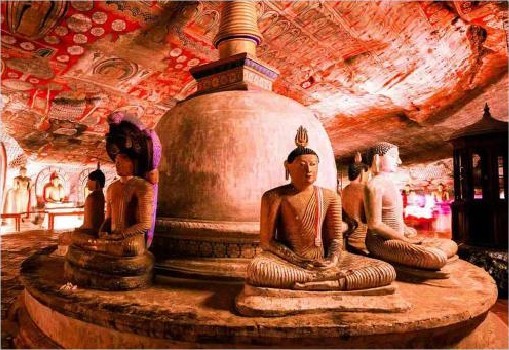 After a hearty breakfast, make your way to the Royal City of Kandy, enroute make a stop at the five cave temple on a rock called Dambulla Cave Fort also calledSacred Temple of the Tooth to make your offerings to the sacred relic.  Also visit the quaint spice gardens of Matale which showcases the multiple spices Sri Lankans use.
Day 7 - Kandy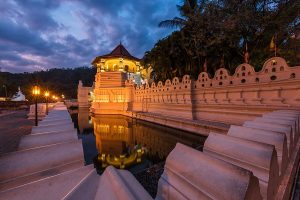 This morning visit the Royal City of Kandy – the last stronghold of the Sinhala Kings.   This evening witness the vibrant Kandy Cultural Show.
Optional:
If you are an early riser, enjoy a walk at either the Peradeniya Botantical Gardens or Udawatta Kele (charges apply)
Day 8 - Kandy - Hatton
Sit back and relax and enjoy, what is considered, one of the most beautiful train trips in the world, as you make your way to the misty hills of Hatton.
Day 9 - Hatton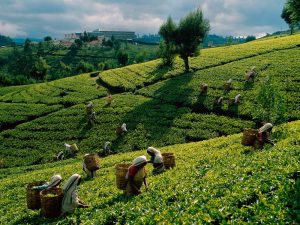 This morning visit one of the many picturesque tea plantations and learn all about the magic of tea.   Afterwards, lend a hand in the field to partake in tea plucking yourself.
Day 10 - Hatton - Tangalle
Leave the cozy tea country to make you way to relax and rejuvenate by the sun, sea and sand of the south coast.
Day 11 and Day 12 - Tangalle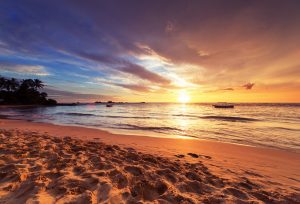 Free days of leisure to relax and enjoy the beach.
Day 13 - Tangalle - Galle
Travel onto the timeless Galle Fort and in the evening meet your resident expert for a walking tour learning the secrets of the 400 year old fort at every turn.
Day 14 - Galle - Depart Sri Lanka
This morning visit the local markets and experience Food for the Soul, where you be taught in a mud-hut kitchen, cooking techniques and key ingredients used in Sri Lankan cooking.  Afterwards you will visit the Kosgoda Sea Turtle Conservation Hatchery which is operated by local people.
Early evening departure transfer to the Colombo International Airport to board your flight.
Hotels
Nestled between leafy Park Street and the lakeside Buddhist shrine of Gangarama, Residence by Uga Escapes is amongst one of the most unique boutique hotels in Colombo, Sri Lanka's commercial capital. Built in the 19th century by a wealthy barrister, Sheikh Salehboy Moosajee, the halls and ballrooms of this grand Victorian townhouse once welcomed British governors, Indian maharajas, European nobility and the cream of colonial Ceylon society.
Ulagalla – Ulagalla Pool Villa
Once a chieftain's mansion, Ulagalla features a 150-year-old mansion at its centre, with 20 private, ecologically-built pool villas spread across 58 acres of lush greenery. With its own solar farm generating half of its own energy requirements, Ulagalla is truly a unique boutique hotel in Anuradhapura. 
Kings Pavilion Kandy is an exclusive escape that will offer you an extraordinary perspective on the majesty of the hill capital of Sri Lanka. Surrounded by misty mountains and verdant greenery the Kandy boutique hotel gives you an experience akin to royalty.
Ceylon Tea Trails – Bungalows – Norwood Bungalow/Tientsin Bungalow/Summerville Bungalow/Dunkeld Bungalow/Castlereagh Bungalow
Sweeping lawns and swimming pools. English gardens filled with roses, dew filled agapanthus and spring crocus. Tea on the lawn with Dundee cake, scones, strawberries and cream or lunch alfresco by the pool, a summerhouse to meditate in or watch the forest wagtail flit from tree to tree. Tennis, swimming, croquet and classic board games all come together for a leisurely lifestyle at the five historic tea planters bungalows that comprise Ceylon Tea Trails.
Anantara Peace Haven Tangalle Resort  – Premier Beach Access
Anantara Peace Haven Tangalle Resort sits on a rocky outcrop on the southern coast of Sri Lanka near the old fort town of Tangalle. Golden-hued beach fringed by coconut palms overlooks the roaring Indian Ocean.
Explore the island's rainforests, pilgrimage sites and fishing ports. Dine cliffside, embark on surf adventures, or retreat to the sanctuary of Anantara Spa with award-winning Ayurvedic treatments.
Begin your Galle quest at Fort Bazaar, a handsome merchant's home-turned-boutique hotel with 18 stylish guestrooms and fresh, contemporary interiors invoking a Middle Eastern vibe. Positioned on Church Street within a UNESCO-listed 17th century fort, this spa hotel in Galle promises serenity, high-end service and gourmet modern dining, and makes a very welcoming retreat from the bustling cobbled streets of Galle Fort.