Introduction
ARE YOU IN A TROPICAL STATE OF MIND? Sri Lanka, an island in the Indian Ocean and located south of the Indian subcontinent, is also known as the Island of Serendipity. The land of serendipity brings spiritual tranquility and a chance to rediscover oneself. The beauty of this tiny island is simply breath-taking.  Known for its enchanting ancient ruins, endless soft-sanded beaches, imposing mountains, colourful festivals, tempting water sports, dense wild-life, diverse ethnical groups, incredibly friendly locals and the Country's heady mix of British colonial heritage make it a beguiling destination. The magical island of Sri Lanka offers endless photographic opportunities. The wonderful combination of a gentle lush landscape, a fascinating culture, and a rich and varied wildlife means we will never be short of subjects to photograph. From the many small lakes and 'tanks' covered in vegetation with smart. Pheasant-tailed Jacanas delicately picking their way through the flowering lotus to mighty Asian Elephants grazing yards from our vehicle, from beautiful Buddha statues of all sizes and towering stupas surrounded by palm trees to vivid birds and stunning butterflies, there is something to be captivated with at every turn.
Itinerary
Day 1 - Airport - Negombo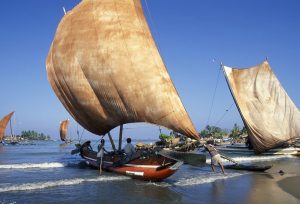 Arrive at the Colombo International Airport where you will be warmly received by an Exotic Destination representative.  After which you will be transferred to your hotel in Negombo to relax and unwind after your flight.
Day 2 - Rambukkana - Dambulla - Sigiriya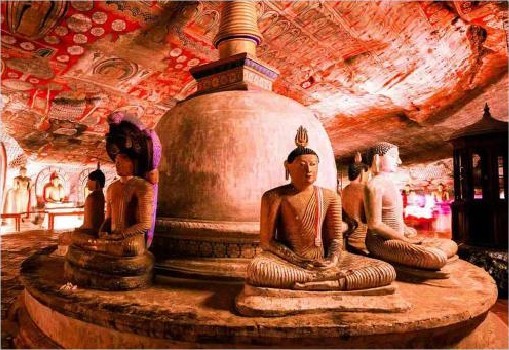 Leave the traditional fishing village of Negombo, also known as little Rome due to the large number of churches, and make your way to the mystical city of Sigiriya. Enroute stop over at the Millennium Elephant Foundation for a walk with a gentle giant while learning about the Asian Elephants.  In the late afternoon visit the enchanting Dambulla Cave Temples before making your way to the hotel
Day 3 - Polonnaruwa - Minneriya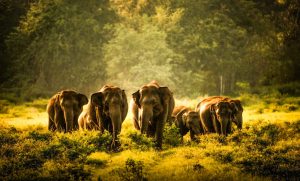 Adventure on to the ancient city of Polonnaruwa to discover the way of life of the ancient civilization. On the way back, embark on a game drive at Minneriya National Park spotting Elephants.
Day 4 - Matale - Kandy
In the early morning hours, scale the magnificent Sigiriya Rock Fortress – it consists of over 1000 steps! so it is perfectly fine speaking to your guide prior and stopping half way.  After a hearty breakfast, make your way to the Royal City of Kandy, enroute make a stop at the quaint spice gardens of Matale which showcases the multiple spices Sri Lankans use.
Day 5 - Kandy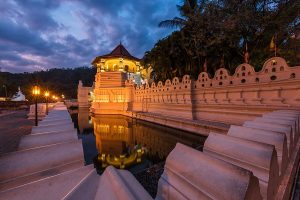 A slow start today, after lunch you will travel 30 minuts to meet a traditional teach who descends from a long line of professional drummers for traditional drumming classes in his home.  Afterwards witness the vibrant Kandy Cultural Show and make your way to the Sacred Temple of the Tooth to make your offerings to the sacred relic.
Optional: if you are an early riser, enjoy a walk at either the Peradeniya Botantical Gardens or Udawatta Kele (charges apply)
Day 6 - Kandy - Hatton
Leave the Royal City of Kandy to make your way to the misty hills of Hatton.
Optional – Board a train to Hatton (charges apply)
Day 7 - Hatton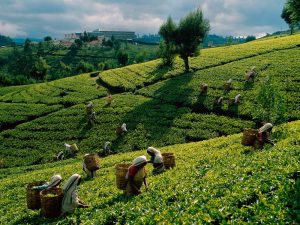 At leisure to unwind in the tea country or partake in the 'Tea Experience' hosted by Camellia Hills .
(Please note that this experience is not available on Sundays & Public holidays)
Day 8 - Hatton - Yala
Leave the cozy tea country to make you way to the wilds of Yala.  Time permitting embark on a game drive into the park.
Day 9 - Yala
An early start to the day as you embark on a morning game drive trying to spot the elusive spotted cat – the Leopard.  In the afternoon enjoy another game drive.
Day 10 - Yala - Tangalle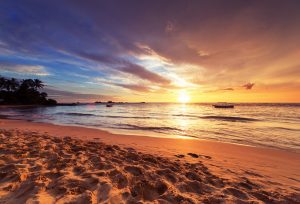 Leave the wilds of Yala to make you way to Tangalle, to relax and rejuvenate by the sun, sea and sand of the south coast.
Day 11 - Tangalle
Free day of leisure to relax and enjoy the beach.
Day 12 - Tangalle - Galle
Travel onto the timeless Galle Fort and in the evening meet your resident expert for a walking tour learning the secrets of the 400 year old fort at every turn.
Day 13 - Galle
Start the day with a scenic and immersive tour through the beautiful countryside surrounding Galle.  Your journey will take you down the Kapu Ela River by boat and then by bike across the paddies, ending with a traditional Sri Lankan meal and a lesson in hopper making.  This 3-hour tour will show you a different side to Galle's jungle, glistening paddy fields, and quaint winding roads.
Day 14 - Galle - Colombo International Airport
Departure transfer to the Colombo International Airport to board your flight.
Hotels
The Wallawwa is not your typical Colombo airport hotel. Set in 200-year-old tropical gardens just 15-minutes' drive from Sri Lanka's main international gateway, our award-winning 18-bedroom country house hotel with gourmet food, jungle pool and heavenly spa, carved out of an atmospheric 18th century manor house, exudes style and serenity. As an alternative to hotels in Negombo, The Wallawwa promises to start or end your Sri Lankan holiday in style.
Welcome to Water Garden Sigiriya where luxury meets nature surrounded by lakes & water streams, The breathtakingly beautiful Sigiriya hotel boasts a modern day water harvesting design revisiting the 2,000-year-old water garden on Sigiriya Rock.
Kings Pavilion Kandy is an exclusive escape that will offer you an extraordinary perspective on the majesty of the hill capital of Sri Lanka. Surrounded by misty mountains and verdant greenery our Kandy boutique hotel gives you an experience akin to royalty. Revel in the rustic luxury of airy bedrooms styled after bygone eras, enjoy the 360 degree vistas and take a dip in the secluded infinity pool at our Kandy hotel that will give you an incredible insight into the lifestyle of Kandyan kings; savor the decadence of your ultimate retreat.
Camellia Hills – Camellia Bedroom
Live the life of a modern-day tea planter at Camellia Hills, a luxurious five-bedroom boutique bungalow hotel near Dick-Oya, in Sri Lanka's crisp hill country. From its verdant valley-side perch, views of the mirror-still Castlereagh Reservoir and surrounding tea-wrapped hills are spectacular — drink in the panoramas while relaxing on cushy sofas warmed by an open fire, dining in the semi open air or swimming lengths of the refreshing garden pool.
Set amongst the golden dunes and the lush greenery in Yala, Chena Huts by Uga Escapes blends Sri Lanka's most celebrated features — its tropical beaches and its exotic wildlife. The hotel has been designed with its surrounding tropical jungles and saline lake in mind. Enveloped in a world of scenic splendor and exotic fauna, our 'huts' are luxurious private cabins that offer awe-inspiring views of the surrounding wilderness and seascape.
Anantara Peace Haven Tangalle Resort – Premier Beach Access Room
Anantara Peace Haven Tangalle Resort sits on a rocky outcrop on the southern coast of Sri Lanka near the old fort town of Tangalle. Golden-hued beach fringed by coconut palms overlooks the roaring Indian Ocean.
A handsome merchant's home-turned-boutique hotel with 18 stylish guestrooms and fresh, contemporary interiors invoking a Middle Eastern vibe. Positioned on Church Street within a UNESCO-listed 17th century fort, this spa hotel in Galle promises serenity, high-end service and gourmet modern dining, and makes a very welcoming retreat from the bustling cobbled streets of Galle Fort.